International Conference on Traffic Safety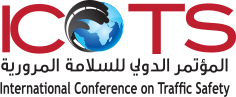 International Conference on Traffic Safety
"Road Safety Management and Intelligent Transportation Systems"
4-5 November 2015
Abu Dhabi
Introduction:
During the recent years, the automotive technologies and Intelligent Transportation Systems (ITS) have witnessed several developments that are considered to be entirely new in some aspects. These developments have mainly been concentrated in areas that ensure the provision of higher levels of security and safety to passengers while also addressing the issues of traffic accidents and reducing their occurrences. The developments also aim to limit the number of fatalities, serious injuries, and economic and financial losses.
Many countries have used modern technologies in order to reduce and limit the traffic violations committed by motorists over the past two decades. The documented results from some of these cities indicate that the use of these technologies has significantly reduced the violations that have amounted to an average of 40% by using devices that monitor red light offenses. The results also indicated that using such modern technologies has led to improving the levels of safety by reducing the average number of traffic accidents by 20%.
The Intelligent Transportation Systems (ITS) is a system of integrated modern technologies that work together with accurate instantaneous information and telecommunication systems in order to coordinates traffic movement process. The ITS optimizes the transport infrastructure to facilitate traffic flow, which ultimately reduces the costs of transportation and the number of accidents alongside the levels of environmental pollution that result from an increased number of vehicles.
The Intelligent Transportation Systems (ITS) uses modern technologies in the fields of surveillance, information gathering and control, communications, and computer programs with the aim to optimally utilize road networks and other means of transport. ITS aids in the facilitation of a seamless traffic flow and grants easier access to the desired destinations. As a result, less trips are needed which subsequently reduces the mileage of the vehicle, leading to a reduced rate of accidents and percentages of environmental pollution. The ITS also contributes towards securing a swift response to traffic accidents and emergencies through the provision of information that is made available through these technologies and devices.
ITS Basics:
The ITS is an integrated and state-of-the-art application for computer-based sensors, software, sensing and detection technologies, and objective management strategies. It also provides information transfer management through communication systems that contribute to efficient productivity, prosperity and security. The components of ITS are divided into three interrelated sections, namely:
Means of Data Collection:
Devices that collect various input data that include: sensing traffic flow; photo capture and vehicles counting cameras on internal and external roads; using surveillance cameras in parking lots and public transportation modes; and e-booking offices for various transportation modes. The devices are also useful for preparing reports and providing information regarding maintenance works and accidents for review by the competent authorities along with environmental reports and weather forecasts.
2. Data Processing Technology:
Software and devices that process the collected data and inputs in order to manage transportation systems in a way that corresponds with the changes that occur to those systems, copes with current situations, and provides various information to users of those systems in a secured and efficient manner for using different modes of transportation.
3. Command, Control and Information Transfer Technologies:
These technologies transform the results taken from the inputs into various control means that can be utilized in real life situations, which include: traffic lights, guidance and warning signals, coordination with public means of transportation and entities concerned with different transportation activities, and the establishment of control rooms and traffic and transportation information banks. The technologies additionally transfer information to transportation system users through information channels that are utilized during trips, such as radio, mobile phones, and Global Positioning System (GPS). They are also utilized prior to the users' trips via the approved delivery information systems available at public transport stations and stop points, such as TV, newspapers, the Internet, or other means.
Systems and Technologies:
It is important to have a plan or a program to use software and integrated systems that manage various aspects of transportation activities along with using software that provides a wide range of information to the various users of transportation networks. The naming of this software varies by manufacturers according to the projects that they have been developed for. The following are some examples for further clarification:
Advanced systems for traffic safety management.
Advanced systems for traffic flow management.
Shipping vehicles to operate processes.
Advanced systems for vehicle control.
Advanced systems for driver assistance.
Advanced systems for automatic control.
Main Objectives of the Conference:
Improve and manage the level of traffic safety, elevate the capacity and efficiency of transportation systems, and reduce delays and traffic congestion.
Shed light on the development of new technologies and the importance of their adaptability to the objectives and components of traffic safety; and increase the efficiency of these technologies.
Develop legislation related to the implementation of Intelligent Transportation Systems (ITS) in order to enhance traffic safety, and to ensure that the systems do not conflict with the personal freedoms of road users.
Improve the levels of traffic flow and the convenience for commuters; and provide the allocated information in regional multi-modal transportation networks.
Traffic control, traffic accident management and speed of emergency response.
Find ways to bridge the current gap between scientific research that aims to develop ITS, and the actual application of such systems.
Promote coordination, cooperation and integration among all ITS stakeholders, and standardize the applied specifications and standards.
Conference Themes:
Intelligent systems and traffic control centers and their role in providing safety throughout road networks; and to reduce delays and traffic congestion.
Transport infrastructure including road networks and public transport systems; promoting the levels of efficiency; and increasing the productivity of individuals, institutions and the economic sector- of which can all accommodate the requirements of ITS.
The role of integrated communications systems in promoting road traffic safety.
Intelligent Systems and their role in swift responses to emergencies and rescue operations.
Local, regional and international experiences in utilizing ITS and traffic safety management.
Sensor and control devices, and geo-spatial equipment, and display devices in vehicles.
The level of utilization of basic information such as digital maps, security information and traffic flow in managing road safety.
The most state-of-the-art systems for managing traffic safety during fog.
Date and Venue:
4-5 November 2015, Intercontinental Hotel, Abu Dhabi.
Organizing Entities:
Emirates Traffic Safety Society (ETSS).
Arab Road Safety Organization (AROSO).
International Organization for Road Accident Prevention (PRI).
Joint Safety and Traffic Solutions Committee – Abu Dhabi.
Supporting Entities:
Ministry of Interior.
Ministry of Social Affairs.
Ministry of Health.
Ministry of Higher Education and Scientific Research.
Abu Dhabi Police General Headquarters.
Insurance Authority.
Federal Transport Authority – Land and Maritime.
Department of Transport in Abu Dhabi.
Abu Dhabi Education Council (ADEC).
Etihad Rail.
The Municipality of Abu Dhabi City.
Petroleum Sector.
Emirates Transport
Telecommunications Sector.
Emirates Red Crescent.
Emirates Foundation for Youth Development.
Assisting Entities:
World Health Organization (WHO).
International Road Federation (IRF).
European Road Federation (ERF).
European Transport Safety Council (ETSC).
Canadian Traffic Injury Research Foundation (TIRF).
Participating Entities:
Participation in the conference is open for:
Private associations, entities, committees, governmental and non-governmental councils concerned with traffic safety, transport and roads at the local, regional and international levels.
Experts, researchers and academics from specialized global research centers and institutes that participate in the implementation of the Decade of Action for Road Safety 2011-2020.
Experts and engineers working in the field of ITS, telecommunications, and modern technologies.
Government and private institutions concerned with health.
Entities related to the traffic safety system.
Higher education institutions.
Institutions concerned with children and motherhood.
Insurance companies.
Social welfare institutions.
Automotive sales agents.
Terms of Research and Work Papers:
Must be aligned with one of the Conference themes.
Must abide by the rules of scientific research.
Must be written in a sound language.
Research or scientific papers should not exceed 20 pages including references and appendices.
Research or scientific papers must be prepared on a Microsoft Office Word document, with a size 16 font size.
Must be accompanied by a summary not exceeding one page of the research paper, along with an introduction of the researcher(s).
Prepare a Power Point presentation on the research or scientific paper to be displayed during the conference. The presentation should not exceed 20 minutes.
Research and scientific papers, along with Summaries and CVs must be sent to the following e-mail: etss@etss.ae.
The complete research and scientific papers, along with presentations, must be submitted no later than 28 October, 2015.